Where To Eat in Chaung Tha Beach​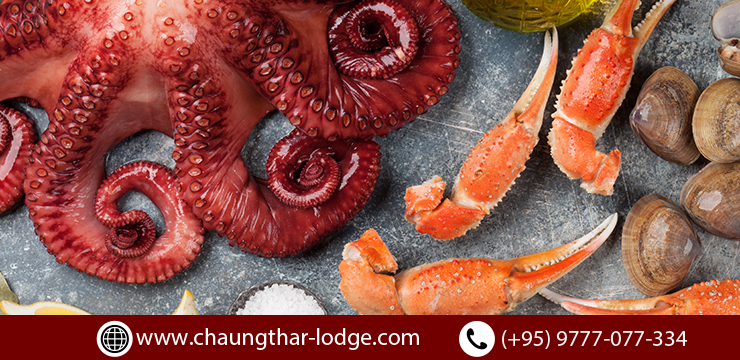 Chaung Tha is a pretty coastal town that lies in the Irrawaddy Region. The town has grown in recent years as beach resort and a wide range of seaside accommodations are available. Most of the resorts in Chaung Tha Beach offer sea views right from your hotel room.
Nearly all of the hotels (with a license to accept foreigners) in Chaung Tha provide a complimentary breakfast. For those who prefer to eat out, several small restaurants offer traditional Burmese cuisine and you can expect to find a huge amount of fresh fish and seafood on the menu as you are right next to the sea.
Here are 7 restaurants you can have your meal in Chaung Tha Beach:
1. The Seagate Seafood Restaurant and Bar
This seafood restaurant and bar which looks like a loft and serves up toothsome seafood provides Thai-styled seafood and variety of Thai dishes. They also serve cocktails.
2. D & W Beach Haven Restaurant
This is a beach bar and restaurant right on the beach in a clean quiet, relaxing setting and a great place to come to for a relaxing stay. The food offered is very tasty and prepared freshly by very friendly staff. The bungalows (just a few seconds walk from the beach) are very comfortable and are in a very peaceful location.
3. William Restaurant & Guest House
The William Restaurant and Guesthouse offers great food in decent price. Various kinds of fresh and tasty fish are available with the cheapest price in town. Side dishes are good as well and there are kind and helpful staffs.
4. Mister George
A pleasant place to have dinner on the main street. The food with great tastes is served by friendly polite staff and the place is clean. This will give you a great feeling.
5. Hla Bo Rakhine Food
A seafood restaurant in Chaung Tha Beach owned by a Rakhine family who has run the place for 15 years. They cook up pleasantly spicy food and also offer sample more challenging dishes such as sea snails and shark-skin salad.
6. Grand Bistro
This hotel restaurant is one of the best in town to eat, even if it's not exactly an atmospheric venue. The extensive menu includes Chinese-Burmese, Thai and Rakhine dishes. There's also a separate bakery and cafe for lighter snacks.
7. Toe Tet Aung Restaurant
This is also an Asian and Burmese restaurant you can find in Chung Tha Beach.
Beach vendors make their rounds up and down the beach selling gorgeous barbecued seafood, fruit and various items. They have buckets of live colossal prawns and they'll bring them back an hour later, grilled with garlic sauce and a side of rice.
The beachfront of Chaung Tha is accessible on foot and you won't need to use a transportation to get around. If you do want to go on a short trip outside the main areas you can get a motorbike taxi. You may also explore some of the nearby islands offshore.
​
Sources
https://12go.asia/en/myanmar/chaung-tha
https://www.things-todo.org/top-5-chaungtha-ayeyarwady-region-foods
https://www.lonelyplanet.com/myanmar-burma/west-coast-beaches-and-the-delta/chaungtha-beach/restaurants/a/poi-eat/357097
https://www.travelfish.org/eatandmeet/burma_myanmar/yangon_and_surrounds/ayeyarwady_region/chaung_tha_beach/eat
B04-chaungthar-lodge_com-AMM